We arrived at Pisa Airport in Italy a little worse for wear after a red wine fuelled flight. We were told off by airport staff ten times. Feet on seats...Drinking own booze on flight...pushing in etc...all the usual stuff kids do in their mid-forties

THE LEANING BAND OF PISA




I met a cracking bird called Walter at the airport but she was a bit too tall for me.

BIG BIRD 1




Once at the club I proceeded to get off with Bridgette Bardot. She's big in Italy. (Wish she would give up the fags though!)

BIG BIRD 2





Dave beat up Muhammed Ali while H gave Maradona a blowback!

FUN WITH LEG ENDS






Got bored waiting for dinner to arrive so we had some fun with the table cloth!

TABLECLOTH EYEBROWS



TABLECLOTH CUNT



TABLECLOTH TIE


There was a gig amongst all this fun somewhere but none of us can remember it!!
Especially Tracy as she was asleep in the hotel!

TRACYCLOTH TABLE

Audio Bullys - Kazahkstan
We did it!.
Against the odds. We did it. No. I dont mean we made and played the show after thirty two hours and seven flights (one missed! Thanks Lufthansa..!)
No. I mean we went the whole weekend without mentioning Borat!...Nice!
Borat was actually filmed in the Romanian countryside. Kazahkstan is suprisingly oriental. It actually borders Tibet, China, Siberia and Mongolia.

We played the Kazahkstan National Football stadium where England will be playing a world cup qualifier later in the qualifying stages. I hope they clean the toilets . I cant imagine posh taking a dump in there and that was the best dressing room


See if you can spot what may ruin the atmosphere of the show?!! Answer later...




Security was lapse. 500 machine gun toting army and police!!!


LOOK BEHIND YOU!!


I gave my usual press conference

My sister and also No. 4 pr....... Stop!!





We tried on Kazak hats. As you do!...Rickey (Sound Engineer)





Not my sister...!
Shabby (Monitors) Terry (Drums)



Answer to earlier question.
There was an international match the next day so no-one was allowed on the pitch!!




Where we went wrong!!
Guitar for Sale
Are there any millionaire punk rockers out there interested in buying Bob Grovers (lead singer with the Piranhas) Fender telecaster. He's playing on this link on Top of the Pops. £1000 ono Please. Help an old punk out!!!!
http://www.youtube.com/watch?v=f8gkWWUD1rs

So, I was with Bob in the pub last night. He needs to sell his guitar to pay off some debts. He was asking for support slots. I mean this guy was a major influence on my life. I don't like to use the word 'hero' If I tell him he'll just shrug his shoulders and look embarressed. I used to like rock music before punk came along. But I only used to like the fast bit at the end or in the middle. I remember in 76/77 when the Pirahnas were a punk band. Peter and me had gone to the 'Hungry Years' in Brighton. A Heavy Metal club that used to end the evenings with 'Free Bird' or ' Hairway to Steven'. Unfortunately it was 'Steve Hillage' night. I won't go into who Steve Hillage is, you can google that youself. Bored stupid we were. Downstairs in a tiny little back room The Pirahnas were playing. There was no stage and the place was packed so they all stood on chairs (except for the drummer) so people at the back could see.
Now this won't sound shocking by todays 'say what you like' standards and people virtualy swear on daytime TV nowadays. But this was the first time I'd ever heard anyone swear on stage and all there songs were about 1:50 secs long "Suicide Suicide, Give it a try!"
It changed my life for ever. I'm just waiting for the bus to take me to the airport. Test Tubes are headling a big Punk Festival in Germany tomorrow. I'm gonna bring my camera this time I keep forgetting it. Hope I don't lose it. (pause for thought). Then next weekend its Balloch Castle, Loch Lomond in Scotland with the Audio Bullys to share the bill with the Sex Pistols. Its funny how things come full circle!! - Del
Lazing on Sunday Afternoon. I aint got no worries….
Perfect Sunday afternoon. Sushi and cider for breakfast with the Sunday papers.
No change there.
I haven't blogged at all recently, basically because I haven't had time and I'm starting to think it's a bit selfcentered. People have got their own lives and problems. Who wants to read about mine???. Anyhow, with Lilleth we were always on a boring plane, train or bus ride to somewhere with nothing to do but tap away until your battery ran out!
I'm tour managing the Audio Bullys at the moment and even though they don't like touring and just do long weekends and festivals, I always seem to be busy fixing or sorting out another problem for someone. We've recently done Soulcrusher, Wireless and Glastonbury. I felt like the page three girl in 'Capitalist Monthly' by getting a cab back from Glastonbury to Brighton for the measly sum of £300.00. It was 4am, no-one was answering or hearing their phone. I went back to our tour bus and Tom had set up his decks and was DJing to a packed party. With nowhere to sleep and the days of waking up on a cider soaked duey pillow behind me. As if by magic a white taxi cab seemed to glide towards me from the VIP area. "Where to mate" "Brighton £300" "Get in". I lovely ride home watching the sun come up with Mac our LD.
NEW FRIENDS
B4Now
The Del Strangefish Show
I'm not giving up drinking.
I'm not giving up FUN
I'm going out now.
Gonna take lots of drugs….
We left Brighton before the cock had a chance to crow and arrived in Bolton seven hours too early at the first of two 'City Invasion' shows. The padlock was already off so the joy of the stare was denied. To the pubmobile…. I wish we were still 'Banned from the Pubs' cos the few and far between pubs that we visited in Bolton left a lot to be desired.
After a good old 'Pissed and Proud' test tube set it was back to Banjos pub 'The Thatched House' in Stockport for an all night lock in, completed in true original test tube style by Dave and myself.
We had to stop off somewhere off the M6 for someone's wake on the way to London. Didn't get to see the body though.
After another pub stop and some beautiful blackcurrant cider we stepped over a few hypocritical long faces into the bus and had a great crash out until we woke up outside the Islington Academy for show two of the 'City Invasion Tour'.
Overall a quality fun filled weekend with the test tube party stylee in full effect.
A few thanks…Everyone who came and had a laugh with us at the bar, Vinnie from the Agnostics (Still younger than Charlie Harper!), all our American friends, Nuria from Madrid for her gifts and most of all, Banjo for looking after us in the depressed northwest.
Cheers!
Del
Band of the Weekend: Random Hands
The Del Strangefish Show
Good Evening and it is with a heavy heart that I bring you the sad news of the inevitable demise of 'Melty the Snowman'. Doctors say he may not make it through the night.
April 08
Little Paedophile Victim 2
Right. Let me tell you where I'm at.
This is my page. This is my opinion.
Joe Strummer must be spinning in his grave. I didn't start a punk band so I could help fund the American multi million dollar porn industry.
What has pornography got to do with punk rock? Zilch!
I urge people who would go and see this type of movie to boycott it!
I was not consulted about the use of my music in this film and to my mind that is no way to conduct a business.
So for that reason...... I'm Out.
April 2008
The Del Strangefish Show
Which unlucky location will have the displeasure of our company this month......?
The city of Athens, Greece.
The Limousine driver seemed strangely familiar.
Straight to the restaurant mmmm…which dog shall I choose?
The show went well..! All together now...Elvis had a heart attack...
Night cap. Next stop Lewisham!
See you in the bar!
Del x
Picture of the Month
Hrvatska
That's Croatia to you. Zagreb. Population 779,145 … wait a minute. Make that 779,146.
Received international recognition 15th January 1992.
Mission: to get drunk and get paid.
It`s the first festival of the year. 7:00 AM and were off to Gatwick.
This brings back memories. Shoes off, computer out, free whisky tasting.
Hold on, make that free Mojito tasting.
After a heavy Friday night it was up early for Saturday morning TV.
Onions Turpin....No, it`s not a 12 string!!
Dave and I get into the festival spirit
and beers...
We attempt to rock!
The girls like me the best!
Band and crew, pockets filled with Croation Kunas line up for a photo in front of some traditional old Croation scaffolding.
Mission accomplished!!
H`s Review:
I woke up at 6:00AM on Friday morning. Took a 10mg Valium and had a brandy coffee. Next thing I know, I`m being dropped off Sunday night covered in bruises!!!!
Picture of the Week
When Brewery Bears Attack!
Del Xxxx
The Del Strangefish Show
NOSTRADELMAS PREDICTS...
This was my prediction on Steve Mcclueless's initial appointment
May 2006
Well, not since Graham `Turnip` Taylor have the FA made such a monstrous decision as to employ Steve `plenty of chances `McClaren` as England manager. We all new he was a crap tacticianer when Middlesborough lost 7-0 to Arsenal. Or when he lost the final of the UEFA cup trying the same `4 up front` idea, that fluked him through the quarters and semi`s after being three down at half time. The FA think they are clever by hiring Terry Venables as their `get out of jail free card`. So when McClaren fucks up as predicted, they can bring in El Tel to placate the fans.
Buffoons!
Pretty close really, apart from the El Tel bit...
Unfortunatley, due to Mcclarens stubbornness Venables was never given a chance.
More accurate predictions, for 2008, next month
OVERRATED OVERPAID AND UNDERPERFORMING
Three reasons why I`m glad England did not qualify...
1. Mcclaren would still be manager had we scraped through!
2. The peoples of Austria and Switzerland will be spared from English thuggery.
3. People will now wake up to the real root of the problem. The Dinosaurs at the FA!
The recent 2-3 defeat at wobbly stadium brought to the surface some long time unanswered questions. ??? Why didn`t the rich pampered primadonnas try? Thinking about which Ferrari to buy next? How will this affect my endorsements? Selfish and greedy with no hunger. Who should be the next manager? Klinsmann? Another spoilt tosser. Mourinho? Wouldn`t touch it! Capello? Too arrogant, can`t speak English and in it for the money once again! My choice would be Harry, but why would he take it? What's the point? It`s a bit like the test tubes at the moment. No European Championships, No record deal, just pointless friendlies next summer!!
Heres an idea. As there are hardly any english players in the premiership. Throw out the likes of Derby, Wigan and Bolton and get in Madrid, Barcelona. Bayern, Juve, Celtic or Rangers. Call it the European Premiere League and make the Championship the English Football League Division One and limit the amount of foreign players. That way we don`t have to suffer the Gillette/Pepsi ads or the WAG`s and our young players will get a chance to develop.
Away from fatball and over to a real British working class hero. Come on Ricky smash the shit out of mouthy Floyd Moneyfeather!
More sport when it becomes interesting...
Two Uninteresting and Unrelated Stories this month...
1 . I'm walking across Victoria station. Still spangled from the night before. When a young lady dressed as an Orangutan approaches me off guard. "Got any shrapnel sir!" I surrender two pence. That's all I could find. Honestly. I fumbled away in my pockets breathlessly. Her orange fur was strangely beautiful! I began to have visions of a beautiful tree house together. You know that feeling when a couple of seconds last an hour. Then you panic. Oh my god. I'm drifting away from reality. I may never come back. The fear of straight jackets and 'One Flew Over the Cuckoos' nest begin to haunt me. Then. !SNAP! Oh shit! You're back in the station! The whole world is depending on me! I quickly release the two pence peace into the bucket. She's still smiling." I hope the Orangutans survive" I mumble as I shuffle on to the train…(to be continued)
2 .I'm on the train and desperate to go into the toilet. There's somebody in there. I wait. A heavily pregnant woman gets in the queue behind me and smiles.I start to feel guilty. She's probably busting for a piss and I'm not even legitimately going to the toilet. We hear the flush. "Would you like to go first?" I told you I was a good bloke! "No you go ahead" Oh no! Even guiltier. I go into a flap trying to sort it all out before she gives birth. £50 notes are falling like confetti. I get the job done and lift the toilet seat. Disaster!! Someone's pissed all over the seat. Bastard, She'll think it's me!!
So the moral of these completely uninteresting stories are ….Never fall in love with an Orangutan, you will be cleaning up piss for the rest of your life!!!!!!!!!!!

Finally...
I was digging in the garden when I came across this!!!
Merry Christmas
Groundhog Del Xxxx
Last Updated.... December 2007
Del's Old blogs
`The Del Strangefish Show`
Hot Off The Press....... Cave Man Dave Joins .......... 'Chelsea'
Against Their Wishes!!!
Hi Everybody,
Hands up who hated it when the pink panther started talking!...and in that stupid upper class english accent....pink pratt!
I have to apologise once more for my absence but I have been laid up with another bout of lazycuntitis…
Lily got her US visa revoked, so while I was supposed to be in Las Vegas watching Britney wandering around the stage like a zombie with her gut out.....Instead I was in Brighton wandering around the back garden like zombie with my gut out. At least I wasn't being televised..or was I..? Who knows these days..?
So a whole lovely month off. What have I been up to? Well apart from the boring stuff like catching up with the accounts, filling out tax returns and being thrown out of award ceremonies. I have been quietly busy writing and recording some tracks.
Here are some recent comments posted on my MySpace page.......
http://www.myspace.com/thedelstrangefishinexperience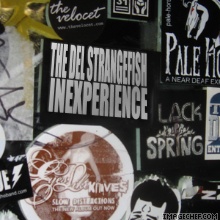 hake Myself A

30 Sep 2007 11:36

Hey I Really like your music!

Especially "Shake Myself Awake"!!! It's a really good song!!!!

I love these songs cos they're all so different but so good at the same time!!

Kisses

CamiiLaiila

30 Sep 2007 12:36

Ace new songs! You get on my nerves is genius!

With the best of intentions

30 Sep 2007 14:35

Hey Del, Loving ur grooveh tunes! Maybe one day you can help me finish learning how 2 play guitar. have a good one

Miranda xx

TTYS love, M:)

30 Sep 2007 14:09

Del, you've done it again...love the new tune.

wayward mother dagmar"

30 Sep 2007 15:05

i love the new music that is up!!!

and the pics. u chose to like yeah..

so like how has it been goin?

have u been really busy lately?

well when u get the chance messag3 me back

XxX

♥ ♥ ♥

30 Sep 2007 16:01

del....you get on my nerves is very poppy.

but i think wasted xmas is gonna beat cliff richard this year to no.1

i didn't think an old punk could be so melodic lol.

Paul

30 Sep 2007 16:32

OoO

Hey Del! How was you're weekend?!!

Like it!

30 Sep 2007 16:33

Like the tracks Del. Keep up the good work and i look forward to the album. Cheers. Nik

30 Sep 2007 16:58

I love the new songs. They're really good!!!

I can't stop listening to "you Get On My Nerves" I love it :P

Anyway, take care! Bye

Sally

30 Sep 2007 16:03

Love ya 2 new songs!!!

the lyrics are awesome!!

and the songs overall are ace!!!

keep it up!!

luv ya!!

Sof (Heroes & Thieves>> Oct 9th)

What can I say... Great job!

You Get on My Nerves is amazing. I loved it!

Love

=*

30 Sep 2007 14:02

the new songs sound fantastic del! 'you get on my nerves' is so catchy. and not like in a venereal disease sorta way. can't wait to hear more! Xx

Grady

30 Sep 2007 14:05

Hey Del, are you ok?

I put Shake Myself Awake on my profile!

Great, great song! =P

Olívia

30 Sep 2007 23:33

Lovin ur music...Drop by my page sumtime:) TTYS Love, M

MIRANDA

7 Sep 2007 14:35

Thanks for the add!!

love ya music!!

especially `nerves'...the lyrics are priceless!!!

shakalaka..

shakalakalaka

31 Aug 2007 14:14

hey del!!

i've been discharged and deemed fit for human consumption!!!

it must have been the flowers.

del, you saved my life man.

eye owe ewe won.

. • • ★ D..

. • • ★ Deborah

30 Sep 2007 12:49

thanks for the add

<3 your music and espacially all about love lol

Poetic

22 30 2007 14:49

ur so lovely, love your tunes by the way xxmaggie may.

30 Sep 2007 16:42

you're so cool,

teach me guitar haha

maggie may

30 Sep 2007 23:33

Heyy

Thanks for accepting

Love your music !!

And i'm jealous cause you got to work with Lily allen ;'[[[[

lol!!

maggie may

ROOOOCK!!!

Kelly Marie

30 Sep 2007 21:58

that video is hilarious! xxx

Fuck Me I..

Fuck Me It's...Ãlèx...

30 Sep 2007 12:22

Delll!

How Are You?

Your Songs Are A Bit Good Lol!

Write Back If You Can

xXxXx

30 Sep 2007 6:08

Del is amazinggggg!

sydney.

DAGMAR

30 Sep 2007 16:35

I have fallen hopelessly in love with your space I mean your face.

shakalaka..

shakalakalaka

30 Sep 2007 15:43

Del! hositgoin?! Totally by coincidence we were talking about you in our blog....... and then we found Lily Allen doing All about love....... bloody brilliant track mate! And you've got a new band. Wicked.

Love sOuth.

Oh yeah....... stop calling me (Jamie) from the airport....... i'm not coming!

30 Sep 2007 12:55

you actually have the biggest top friends i have ever seen

sweet

[charis]

30 Sep 2007 19:58

hey man. i digs your sounds. keep it cool brotha. Mary.

sista_mary

30 Sep 2007 9:53

the most beautiful music ever, although there's no harp,

it'll probably get covered

Christophe pissed-off (snails-legs eater)

Sep 30 2007 23:42

THANK YOU! It's great to hear some great music from somebody that WAS there and STILL is! You'd better watch it, or the 'Hot Topic' crowd may latch onto you (although anything by Flesh for Lulu is safe, as they're not too big on looking into the past to find that history only repeats itself). Hope things aren't bad between you and the rest of the guys from Flesh (I saw that you both had new album/songs, and too much VH1 'Bands Reunited...) Anyhow, keep it up! And I hope you find your lost black sock- if not, my wife has lost several dozen over the last ten years (all of increasing sentimental value), and I've got them all! Kind of like being a kidnapper with a hostage (or 36 +/-)- you need something for leverage (or to just drive someone crazy). Her socks are yours, especially with the Lily Allen connection. It's great to hear something from the past come back, but new, and make you remember that the future could still be better.

wes

Wes- (you remember, UWM w/Gene Love Jezebel in '87, Eagles Club in Milwaukee w/P.I.L. in '89? Jk, I remember and it's awesome to have some of those memories back, with more to be made. Let there be song and socks for all.

30 Sep 2007 10:13

you are the shit, I love you

Comment Back - Send Message - Block User - Delete My Comment

*Carey*

30 Sep 2007 22:22

There is nothing better to prepare you in the morning than listen to 'shake myself awake', plus it also can accomodate to a bitta dancing. *Carey*xx

30 Sep 2007 20:44

such great music here.

how are you? KID A

ann //xx//

Lilia

30 Sep 2007 14:25

hey, thanks for the add. the music sounds pretty good. Shake Myself Awake is my fav. ann //xx//

30 Sep 2007 19:50

heeeee yeaaaaaaa crazy music very good chido suerte y ojala podamos invitarte a mexico chao carlos pyxxxy

The best loser in town

30 Sep 2007 20:08

loving the tuneage! Thanks to you and some of your friends I'm going back to college so I can do something with my creative ideas...up until now I was working as a recruitment consultant. not any more. The music has taken hold and I've had a mid - mid life crisis. Keep it foolish and cheers for the inspiration! Xx

30 Sep 2007 7:39

Songs are great Del!

inspirational!! pyxxxy

30 Sep 2007 5:18

hey, thanks for the add! I have lately been obsessed with your song all about love. it is AMAZING!!! yeh, so... keep up the good work.

Lizzy xx

30 Sep 2007 16:27

Loving It. xXx

Piggin Loon

30 Sep 2007 17:05

heey love itttttttt x EBGB

Sabine

30 Sep 2007 16:17

Hi Del,

thanks for adding.

great music! good luck!!!

Sabine

30 Sep 2007 8:07

Great job Del!

Same positivity and emotion as early Clash/Buzzcocks.

Love it.

Thanks for being our brother in arms!!

-Scatterheart

30 Sep 2007 9:12

that video is bloody fantastic. just thought i'd point out the obvious...

Grady

Nicola T. *Moving to the UK SOON!*

30 Sep 2007 1:01

This is now my profile song because it is great...obviously. xx

Sep 30 2007 0:42

God true punk sounds so refreshing..great fucking music man!!..stay in touch .. oMNi

30 Sep 2007 22:03

Del, I've just been listening... maybe it had the wrong effect on me cos I got all emotional, so Del, you did make me get drunk and now i'm blazing skunk. Rock on brother, Rock on!!

Huckle

30 Sep 2007 11:32

Hi, Del!!

You remember when you played in the Anoeta of vigo???

cheers from Galiza!!

SKACHA

30 Sep 2007 8:11

Hi, The video is dynamite....

You rock....

Glenda

9 Jun 2007 19:36

Del, you make me wanna get drunk!

Huckle

Hey Del! You like totally rock! Fer sure!

xx

tom

7 Jun 2007 15:42

Simply splendid!

tom PIPER = )..

PIPER = ) EVERYTHING...

7 Jun 2007 4:30

love no excuses i added to my profile

punk exist and resist

Sof (Heroes & Thieves>> Oct 9th)

good luck!

debi

6 Jun 2007 23:14

A...immense.x

x

Drea <3

5 Jun 2007 21:39

heyyy!!! Thanks for the add, again. :)

I may be seeing you guys this weekend. Looking forward to it.

Scarletx

5 Jun 2007 20:26

good music chap!! and your from btown... niiiiiceeee :-)

5 Jun 2007 18:25

really good stuff!

I love the "inexperience" in your title! LOL..too funny!

:) Choking Susan x

pauly poo!

pauly poo!

1

30 Sep 2007 17:10

Heyy what's up Del?

I love your new songs and Wasted Christmas is GREAT XDx

peace

Olívia

Olívia

30 Sep 2007 12:52

ummm....ok del i'll reserve judgement but if the album does come out,i will que up all night to get one lol :o)

pauly poo!

shakalakalaka

30 Sep 2007 12:37

hahaha hey del!!

like the music!

you gonna be in l.a. next week?

i am.

maybe run over, uh, into you?

i'm using etch for target practice...

shakalakalaka

01 Oct 2007, 13:04

Subject: Great songs!

Body: Hey Del, are you ok?

I really loved your new songs!

I woke up yesterday and turned on my computer to listening your tunes! I was waiting for them since friday!

Have a great week, Del! =)

Kisses from Brazil

=*

©2003-2007 MySpace. All Rights Reserved.

Trapper, Me and Shabby at a Festival in Krakow, Poland. September 2007
My Unlucky Day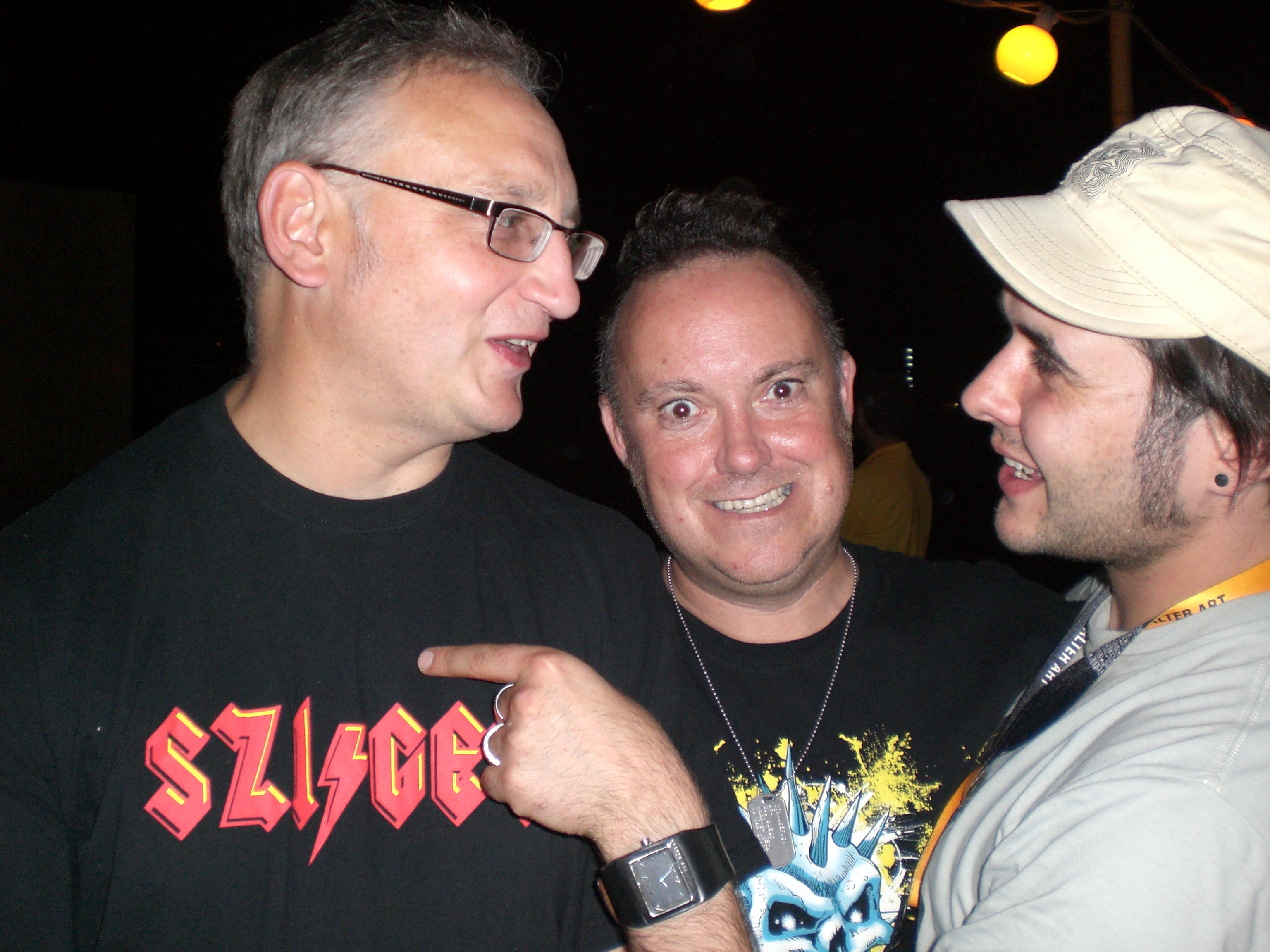 Ex
cuses,
Picture of the Month

CU NEXT MONTH
DEL XxX
Good Evening and Welcome again to
`The Del Strangefish Show`
HOT OFF THE PRESS....Mark Verrion aka Skweech/Scab...Has left the Masked Raiders to start a new life in California. Bookies favourite, Paul ' H ' Henrickson is set to be named as his replacement!!
Sorry about contracting lazyblogitis.
So wadbinappenin!!

A Quiet Night In!


Tired but Inpsired…
…enough to write this anyway.
Went to Spain on Sunday only to discover that my electricity had been cut off. Took a couple of days to sort that out (191.00) Euros. I foolishly decided to take the 'skin of your teeth express` to Gibraltar. (3.75 Euros). I am missing the big feria in my village this week to do Japan and Australia, so I had a few drinks in the `El Gecko` to make up for it before I left. Another mistake. Got the train with a bottle of Bornos, but, as if by surprise, developed the famous Bornos blackout and left my bag when I got off. Itch, itch, itch. I got a taxi driver to overtake the train and got my bag at the next station. After a spot of cash point hunting (50.00 Euros) and bit of car trouble I finally arrived at Gibraltar airport to discover they had closed the gate. The plane was still on the runway but I`m sure everyone has been there before…. No way! ….God my bites itch! So, after paying for another flight (200.00 Euros) I decided to find an English pub with Wi Fi (or Wiffy as the Spanish call it!)


After a quick airport search ' The Lord Nelson' popped up and they did a fine pint of Scrumpy Jack or six. (36.00 Euros but worth it!..not per pint…Total!..Der!!)
Ooh my bites still hurt from sleeping rough…whoops! nearly gave the middle of the story away there!

So here I am sitting in the 'Naeba Princes Ski Resort at Fuji Rock Festival in Japan, finishing a can of strongbow and about to hit the festival with the girls and boys!

Anyway…in true Tarantino style , rewind and fast forward to the present. Just got in and had a great festival laugh. Ricky from the Keiser Chefs ( Yes..I know, it was deliberate!) was pushing me on the big fast spin around swingy thing when he trod in a puddle got a bootful and fell over and grazed all his arm up.

They should rename the Gatwick Express, `The Gatwick Tortoise.' Feel like pushing the emergency button and running along beside it. Bet I get to Victoria first!!

Ideas That Will Never Happen… Pt IIIV
We are on at the same time as the Keisers but on different stages (obviously…ed!) Piss off your fired. So we came up with this idea. After synchronising watches. We are both gonna stop at the same time and Ricky`s going to shout 'Day Oh!'...and Lilys gonna shout from the other stage 'Day Oh!'..and then the whole festival is gonna sing. 'Daylight come and I wanna go home!!.

Forget that Shit sir I just wrote Mr hyde is here again, Fuck th Goddamm 'for the goodness. Anbyway we rabbitted foer hours then felled asheepeep…

321, your back in the room.

So back to Thursday. Got thrown out the pub and decided in a drunken haze that I`d wasted enough money, so I was gonna sleep rough until check in at 6:20 AM. Another bad decision as I have now been bitten to within an inch of my life by mosquitos and an idiot thought it would be funny to try and piss on me…. One swift right hand jab and the guy rolls down the bank and hits is head on a palm tree, as you do! The police arrive… Ola Ola Ola…

That's where the word 'gibberish` comes from, you know. Gibraltan and English. A sort of mixture of Spanish and English. Seeee…. informative AND entertaining!

After foolish decision number 237 in a series of ten million… I have plotted up on a nice grassy bank between a couple of Burt Lancasters palm trees. A glorified gutter if you wish! I explain to the police that I`ve missed my flight and I`m just killing time `til the next one etc…
Suddenly the unconscious guy gets up and legs it?
The Gibraltan police give chase. I go back to sleep in my million star hotel. Only to be woken at 5AM by a gang of Gibraltan girls, rebelling against thier parents, for having to grow up on a huge piece of concrete modelled after Canning Town!
"What you doing 'ere mate!.
I`m waiting to got to Japan.
"What you going there for?"
Doing a festival. I work for a singer.
"Ooo?"
Lily Allen.
"Liar!. We love `er"

Tokyo.
Present Day
Just pissed off an American. He walked away in mid conversation. Didn't like my views on Iraq. Prefered CNN version.

Travelodge Marelybone… No Show!... (120.00 Euros)

After a couple of dabs, me, my broken finger and the girls decide to go to a 24 hour diner in La Linea, where they serve Spanish style G&T`s. Always thought that was a great name for a Spanish costal town "The Line" itch itch!

Oops I did it Again!
Daylight come and I nearly miss plane…again!
Who`d employ me?
Anyway I make it but I`m fog bound. Well the plane is.

All aboard the Gatwick Tortoise (20.00 Euros) and then into London traffic in a taxi (75.00 Euros). After much lying and cheating and pushing in, I make it to the gate for my flight to Japan with two minutes to spare. Lily rings me to tell me off for being late. If only she knew. …and then tells me I stink of alcohol and piss and look like I slept rough last night.

..and this is only the stuff I can remember!
After a successful show at the Fuji Rock Festival. We returned to my local in Tokyo. The Dubliners Irish pub. The perfect pint of Guinness and some traditional fish and chips with wasabi sauce and air conditioning.
"Mr Del. It`s time to go home. I think you`ve had enough. See you tomorrow!"

Anyway fed up of typing with a broken finger and two million mozzie bites..itch!

If I wake up screaming. I`ll let you know!

Who`d be me!!
Made it back to my secret location holiday via Tokyo, Perth, Melbourne, Sydney, Heathrow, Gatwick and Gibraltar. Spent the week chilling and getting over jet lag. Laying in the hammock writing this blog while listening to some reggae with a nice glass of Frexeneit. This is what life's all about.
Went to see my fiend Marcus play at Messas bar last night.
Sorry for my nonappearance at the Rebellion festival this weekend. This was due to other touring commitments that didn`t happen in the end. Plus the fact, H, has just had a baby (Medical first!). His name is Lenny.
We`ll be back next year!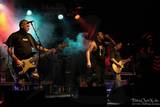 Heres a quick quiz. The clue is in the title.

Pair the country with the short description.

1 Japan
2 Australia
3 United Kingdom

A Beautiful and Sunny with a High Standard of Living
B Extremely Polite and Efficient
C Dirty, Shit, Poor and Full of Rude Arrogant Thick Greedy
Money Making Bastards that haven` t got a Fucking Clue!!!

Here are the Answers..

1. B
2. A
3. C

I don`t thnk so...!
Picture of the Month

Hasta Luego
Delboy Xxxx
Good Evening and Welcome once again to the
`Del Strangefish Show`.....
It`s Back To The States for the Umpteenth Time! Upgraded to Business,
I Soon Managed To Quickly Bore Lily To Sleep!
Seattle....I Hate These Cosy Pub Gigs!
LA....Andy and I Decide We`ll Probably need Microphones for This Stage
The Famous Wiltern Theatre
Anyone Got Any 2p`s for The Phone Box?
Coachella Festival in the Middle of the Desert Somewhere!
Photos Courtesy of John Delf
Thats All For Now. Heres this Months Sexist Joke (Whats Wrong With Being Sexy?)
Hi. So before we start tonight` s show, here `s the latest non celebrity gossip....

(*Warning... Do Not Read First Thing in The Morning or While Under the Influence of A Narcotic Mood Swing. This May Lead to Misunderstanding, Paranoia and Missing of Point. The Manufacturer Recommends a Relaxed Mood, a Couple of Cans and a Spliff)

DREAM TEAM BECOME NIGHTMARE !*

So, just to let you know that the shows in Southampton and Brighton have been cancelled due to the implosion of Peters Dream Team ( A phrase coined by AD). Word on the grapevine is said to have Walnut resigning in a red faced rage at Concrete Jungle last weekend. While Andy Aggros stylist has advised him against another visit to the red light district of Southampton after what happened `last time`!!!

PIPELINE EMPTY!*

After the collapse of the Locomotive Record Deal due to unconceivable differences between Peter and the aforementioned record company. Regular checks around the corner for a deal heading the bands way have proved fruitless. Anyone who was bored of waiting in the queue before we finally decided to go with Locomotive Music may no return with their wheelbarrow filled with Euros.

BIRD LANDS ON WINDOW CILL THEN FLIES OFF!!

As I was doing the washing up when something caught my eye. A bird had landed on the window cill! I assumed it must have sensed that I was watching and instantaneously decided to fly away as quickly as possible. I could not have caught it through the glass anyway and even if I was quick enough and had what would I have done with it??

More Highly Offensive Top Hot Gossip Next Month!!!

This month I`ve been to New York. Where the native New Yorkers failed to seize the moment and exploit this great photo opportunity!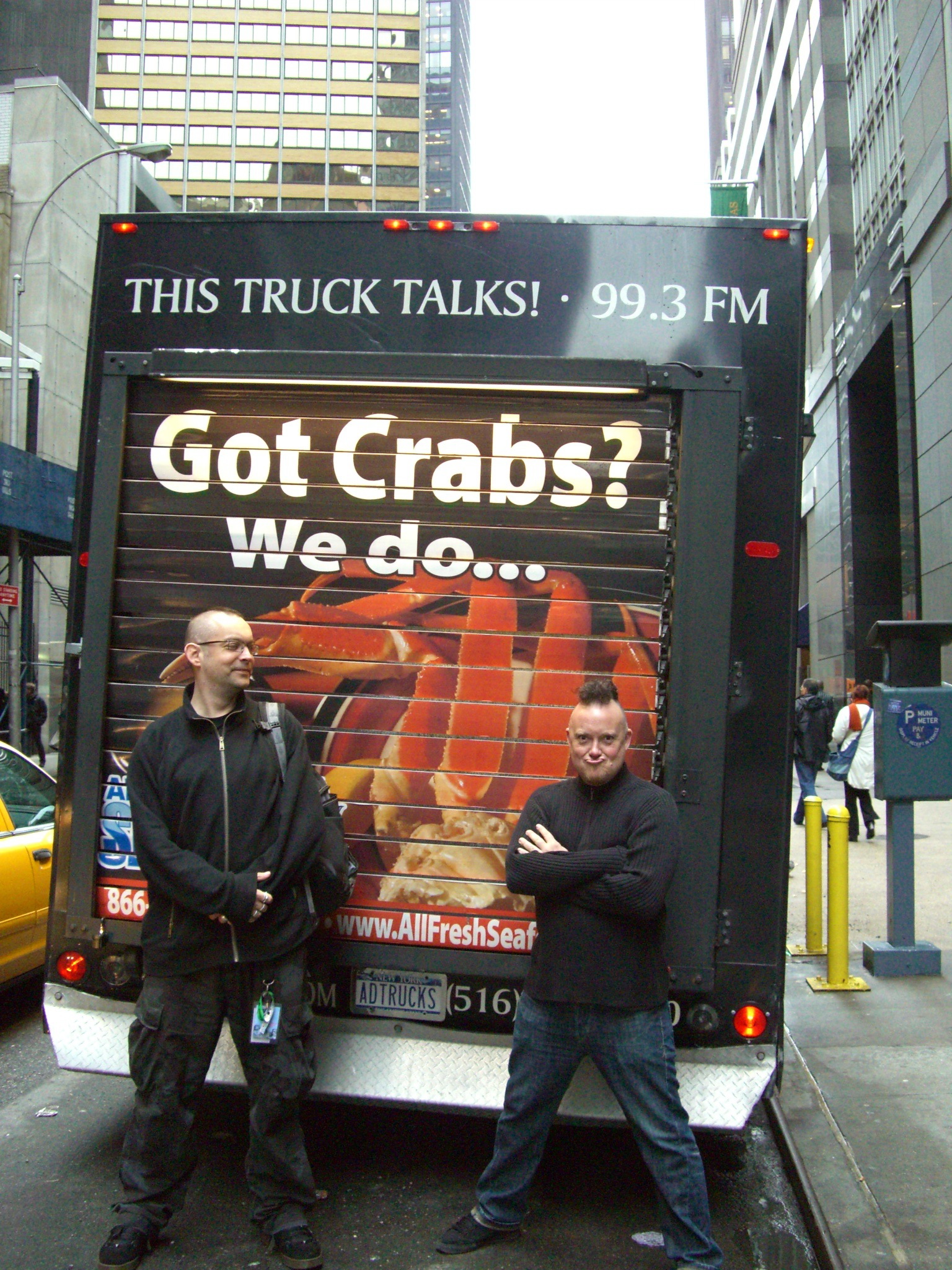 ---
I put on a rousing private performance for Ms Lily!
That`s about it for tonight. So I`ll say goodbye and leave you with a joke...


Oh Well. I thought It was funny!
See you next time!
Delx
Del's blog, old stuff
Recent entries you might have missed, we delete the old crap.
Bob Woolmer to Replace McClaren as England Number One.......
......Buffoon!!
Great Idea No1
Football
Well, not since Graham `Turnip` Taylor have the FA made such a monstrous decision as to employ Steve `plenty of chances `McClaren` as England manager. This is not in hindsight. We all new he was a crap tacticianer when Middlesborough lost 7-0 to Arsenal. Or when he lost the final of the UEFA cup trying the same `4 up front` idea, that fluked him through the quarters and semi`s after being three down at half time. The FA think they are clever by hiring Terry Venables as their `get out of jail free card`. So when McClaren fucks up as predicted, they can bring in El Tel to placate the fans.
Buffoons!
Great Idea No2
Cricket
Can` t any one see it except me?
It` s obvious. Pakistan put all the money on them losing their opening game against the West Indies. This would be less suspicious then throwing the Ireland game.The plan was to lose to the Windies (who haven` t been playing particularly well lately) and are the home team. Then cruise through in second place against the unfancied Irish. One problem, Bob Woolmer and the Pakistani team did not expected the Irish to put up such a spirited performance and send them home.
Hence strangulation!!
Saturday, February 03, 2007
GOING HERE....


TO DO THIS...

l
Friday, February 02, 2007
New York Fashion Week!
Current mood: Bored
Category: Bored Fashion, Style, Shopping

Spent the last two days in NYC hanging with Darren and Tunde, Lily`s producers. All sorts of shit happened that i`m not gonna tell you about. I don`t wanna get my, my space, suspended and the tabloids can work for their fucking money.
You`ll have to wait until Christmas when you can read all the colourful shit (past and present) in my new book.`No Sleep Whatsoever` A Year on the Road with Lemmy Allen. Hardback £19.99. Paperback £11.99. The perfect Christmas gift for anyone of a nervous disposition.
Here`s a taster by way of the missing chapter titles...

Hand Job Hotel
Attack of the Fifty Foot Pipe Cleaner.
Skeletor
Don`t tell the Missus
Saturday Night Skive
i had a great title but no-one would lend me pen, so I`ve forgotten it .
I`ve got a lovely Bunch of Egg Plants
and
Crack and the Beanstalk.

Say what you see.
The clue is in the title. ..
Murder at Tiffany`s
Current mood: Blase

As Normal
(For America)
Lily, Emily, John and myself, have breakfast with, a convicted to death, two time cop killler, and his bounty hunter.
I had egg and chips
Emily had pancakes with miniscule bacon.
John had full English (American)
Lily had weird shaped sausages with scrambled eggs.
Still no remote.
The plot sickens!



October 2006
Del to Earth…Come in Earth!

I began to sense the cold icy beads of sweat as they began their journey down my spine along the track, heading for Gare du Arse.

I began to wonder…

How many parachutes does a CJ Airbus A319 usually carry.

The barrel of her 9mm Parabellum MP 18 seemed to tremble as her skeletal finger began to lightly squeeze the trigger. Surely she' ll kill us all!!!

KGB Special Agent Yankatitsoff's eyes burned with confusion.

Love...Hate…Fear!
Love…Hate…Fear!
We…Want…Falmer!

My heart beat like a soundcheck embarking on it' s mission to destroy another day.
My old wife flashed before me!

Suddenly…

The silence became shattered with the piercing shrill of a cell phone...!

Hello...Hello...?

"Hello. It's Peter. Are you gonna take this web site seriously or not...?
---
Del's main page * Discography * Merchandise * Gig listings
Tour blog * About us * P&TTB home * Contact
---