Australia 2006
Day 9: Friday 8th September 2006, Wellington/Auckland
Me and H got up early for breakfast as we were starving, but couldn't find the dining room. We were directed to the cafe next door that had some sort of deal going on with the hotel and both had a massive breakfast. At about midday we all left for the airport and arrived back in Auckland at about 3.30pm.

At 5pm we all made our way to The Kings Arms for the last gig of the tour. Don had already put up the backdrop and the soundcheck passed off without any problems. Aggro's guitar was broken, which was hardly surprising considering he'd brought it with him in a tissue thin flight case but the guy recording the gig managed to fix it for him.

After dinner I played pool and pinball with H and for the rest of the evening we all just hung about the gig or upstairs in the dressing room. I missed the first support band but fortunately saw the second - The Suicide Dogs, who were fucking brilliant.

The place was absolutely packed and we did a great show. We went down really well, played great and had no repetitions of the sort of behaviour we'd experienced in Wellington. It was a great end to the tour and was again filmed. I believe you can see some of the footage on You Tube. (Click here for all You Tube search results for Peter and TTB).

A lock-in followed but after a while some idiots started to try and serve themselves and before long a fight started. This was our cue to leave and carry on drinking back at the motel joined by Sandy, Simon and Kev.
---
Day 10: Saturday 9th September, Auckland
I basically spent most of the day in bed. The others all went and did their own thing around town and I met up with everybody at 6pm at Illicit HQ. Everyone except A.D. was getting a tattoo. For Walnut it was his first so of course we tried to frighten him by telling him how excruciating the pain would be. While H, Walnut and Aggro had their tattoos done Je t'aime turned up with a film crew to film it.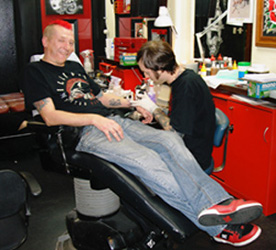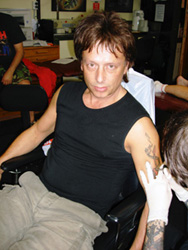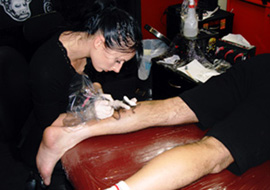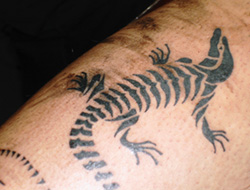 Photos, top left: H, top right: Aggro, above: Walnut
After the tattooist we went with Simon to The Thirsty Dog for a couple of pints and then Kev dropped Aggro and A.D. back at the motel for them to have intercontinental phone sex with their partners. Meanwhile me, Simon, H and Walnut bought shit loads of booze from the pub and went off to a party we'd been invited to by The Suicide Dogs. It was a great party although with everyone being in fancy dress we felt a little left out. The fancy dress theme was the letter C so there were cavewomen, crack whores, Chinese girls, Cleopatra and loads of other variations. I think everyone just thought we were cunts.

Can't remember exactly when we left but I awoke the next day in bed so I guess Simon or Kev got us back OK.
---
Day 11: Sunday 10th September, Auckland
Once again slept through the morning and would have slept some more if it hadn't of been for Aggro farting about packing and fretting like some old woman. At about 2pm the others all came back from where they had been (pub probably) and then Kev, Dom and later Simon and Dave turned up. Kev had to go and meet The Buzzcocks who were arriving that afternoon so we said our farewells.

Once again I'm gonna have to thank Kev for everything he did. He contacted me out of the blue by email and saw it through to the very end. His hospitality was excellent and the two dates went very smoothly which is a testament to his professionalism. We all had a brilliant time and it was down to him. Cheers mate. Of course he didn't do everything himself so I would also like to thank Dom, Sandy, Don, Dave with the cars, and very special thanks to Simon. You too did a fantastic job Simon. We are for ever indebted to all of you.

Anyway Dave turned up at the motel to take us to the airport in another Bentley. There wasn't really room for all of us so I went with Simon and all the gear. At the airport I received a call from H to say that they had changed cars and were now on their way to the airport in a limo and were all drinking Champagne. Fucking rock stars.


Rock stars...
Mind you when they arrived they were a bit shaken up as they had nearly crashed apparently. We said goodbye to Simon and Dave and boarded our plane to Melbourne. The journey was uneventful.

At Melbourne airport we had a bit of hassle at immigration as they couldn't get their heads around the concept that we were changing planes but not going through transit. However eventually they let us in and we checked in for our flight home.

We were all a bit subdued and just hung about the bar having a few quiet beers. The boarding time came and went and then much later we were informed that our plane had a problem and that we wouldn't be going anywhere tonight so could we please go and reclaim our baggage. I was too tired to get angry about it but H and Aggro took it pretty badly, although I think this was just because they were desperate to get home for a shag. Quantas arranged a bus to take us to a hotel a few miles away and that's where we stayed for the rest of the night.

At 5.30am I met A.D. in reception and just as the two of us were boarding the shuttle H appeared. Aggro and Walnut were probably still asleep despite the fact that I 'd told them to be in reception at 6am. The three of us checked in for our re-scheduled flight and they gave us some vouchers for breakfast. While A.D. and H went off I waited for Walnut and Aggro who turned up about 20 minutes later. While they queued to check in I had breakfast and then finally we got on our plane to go home. I was half expecting the captain to announce something was wrong with the plane but we took off more or less on time.

We stopped in Hong Kong again for a beer and we finally got back to England at about midnight on Monday where Del was waiting to take us back to Brighton.
First page: Days 1 & 2, Second page: Days 3 to 5, Previous page: Days 6 to 8
See also: About us for band member personal pages with blogs