Peter's blog, old stuff
Recent entries you might have missed, we delete the old crap.
The Novi Sad Experience
The Players:
Peter - Vocals,
Dave - Drums
Paul H - Bass
Andy Aggro - Guitar
Tracy - UK Driver
Introducing:
Djura- Best sound man in Europe and our
Serbian agent
Igor - Novi Sad promoter
Tuesday 8th May 2007
Why break the habit of a career and get picked up to go to the airport at a decent time? After all, if ain't broke, why fix it? And so it was that Dave, Tracy and Paul picked me and Aggro up at 4.30AM for the trip to Heathrow. Before I go any further I should point out that Aggro was once again filling in on guitar as Del didn't fancy it. Due to personal issues Walnut also couldn't make it. We checked in without any hassle and then hit the bar in Terminal 4. Now obviously you expect bars in airports to be a bit expensive and as I was ordering H's bloody mary I remarked to Dave that I thought this was going to be about a fiver. Wrong. It was £6.70 ! I had one later and I've gotta admit it was bloody good although I'm not sure if it was really worth it. Once seated on the plane we were told by the captain that there had been a delay in the alcohol arriving and that rather than delay the flight we were taking off without it. A likely story. Expect more bullshit like this as we head towards the time when all economy passengers will be refused free alcohol. Upon landing in Belgrade we were met by Igor who turned out to be the promoter from Novi Sad. A few minutes later our old mate Djura turned up and we all got into a beer stocked van for the drive north to Novi Sad. The sun was shining , we had plenty of beers and we were all in good spirits. I sensed an eagerness in everyone to banish the memories of our last gig which had been dreadful. At Novi Sad we checked into a nice hotel in the centre and after a shower went to a local bar for a couple of beers.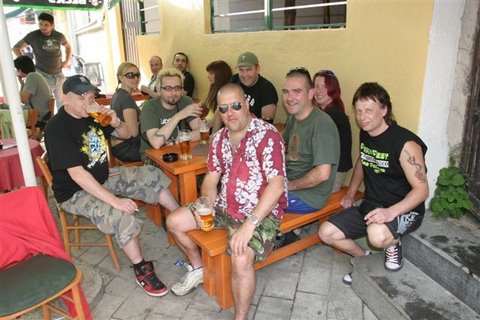 Front Table L-R : H, Djura, Peter, Igor, Dave, Tracy and Aggro.
We then all piled into a couple of cabs and drove out to the old fortress overlooking the city and the Danube. It is a beautiful place and it is also where the Exit festival ( one of Europe's biggest ) takes place each summer. The reason we came here was because we had been invited to a barbeque....and what a fucking barbeque it was The food was amazing. The chef Branko and his willing helpers came up trumps. During the course of the evening plenty of other people arrived and we all had a brilliant time. Thanks Branko
Djura's dinner looked interesting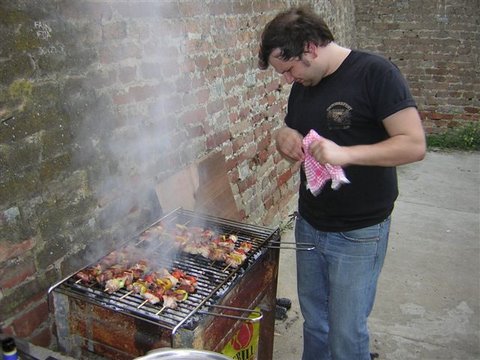 But Branko's cooking was a lot tastier.
It all started so well
But then things got...
...a bit messy
Back at the hotel me, Aggro and Dave had a few beers in Djura and H's room before they kicked us out. Dave couldn't get Tracy to open their door as she'd also crashed out. Aggro could see what was gonna happen so he scarpered off to his room. This left me apologising to all the people Dave was waking up and wondering what the fuck I was gonna do with him. I managed to half carry him upstairs to my room where he immediately adopted the starfish position on my bed. He mumbled something about there being room for me, which was a lie , so I rummaged about in the wardrobe and found enough stuff to make an uncomfortable bed of sorts on the floor. However after an hour or two I'd had enough.It was my bed, if anyone was gonna piss in it , it was me. I called Tracy again and fortunately this time she answered and came and collected him.
Wednesday 9th May 2007
In Europe the 9th of May is called Europe Day. It is basically a celebration of the end of WW2 and kicking the nazis out of Europe. Obviously it's a very big deal and as such is a national holiday in most countries. The Studentski Kulturni Centar Novi Sad (the Novi Sad students cultural centre ) had got together with the region's ( Vojvodina ) council and decided that this year they were gonna celebrate with a big free open air gig in the city centre.
English toilet humour.
Fortunately they asked Igor to help and rather fortuitously for us he is a big Peter and the Test Tube Babies fan. It seemed a bit strange to be invited to play at such an important event especially as we had never played in Novi Sad before, but this just made me even more determined not to let them down. Anyway at midday me, Dave, Tracy, H and Djura wandered over to the main square where the stage was being erected. We hung around for a bit until Tracy dragged Dave off to visit some museums or something equally cultural. We decided to go for lunch and found a nice pub, The Goose Brewery, where we sat outside and had a few beers. Once Igor arrived we had some lunch and chilled out. We met up with Aggro who'd been out either looking for a pharmacy ( diarrhoea drugs ) or a sex shop ( toys ) and wandered up the main street to another bar.After another beer and a bit of sight - seeing I went back to the hotel for a siesta. That didn't last long cos at 6pm Djura woke me up with the news that I had loads of TV interviews to do. He wasn't wrong.
She wanted it.................an interview.
A few hours later I met up with all of the band again back at the Goose pub where they had been joined by a load of Djura's mates from Belgrade. As I was sitting there a gang of punks came up to me and presented me with ........the key to the city! Fucking nice one! After all these years I finally get one! Cheers guys.
I've got the key to the city,
now everything's free....
I wandered off to find Igor and the two of us went to a pub to watch the Chelsea v Man Utd game which was as boring as it was unimportant. Upon leaving the pub at about 10pm we had to walk past the city square. By now there were about 8000 people there. After grabbing a bottle of wine from the nightclub that was doubling up as our backstage and the venue for the after show party, I met up with the others at the side of the stage.Now it was our turn. Out in front of us were at least 8000 people. I turned to Agg and asked him if this was the most people he'd ever played to. " Fuck Yeah " was the reply. We walked onstage and the reception was amazing.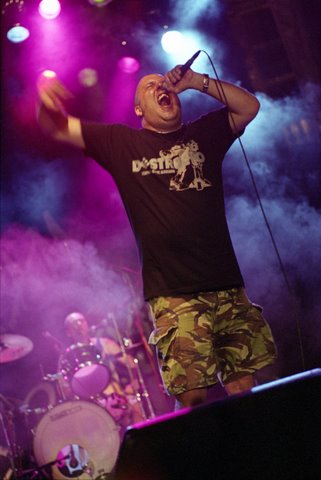 As far as I could see it was just full of people and as soon as we launched into 'Moped Lads ' they all went mental. The sound onstage was superb and I knew that with Djura doing the sound out front that would also be superb. It was down to us to raise our game and reciprocate. And at the risk of sounding big-headed , we fucking well did. Dave and H played their socks off and Aggro just got better and better with every song. You'd have never known that it was only his 5th gig with us and his first without Walnut also playing guitar onstage.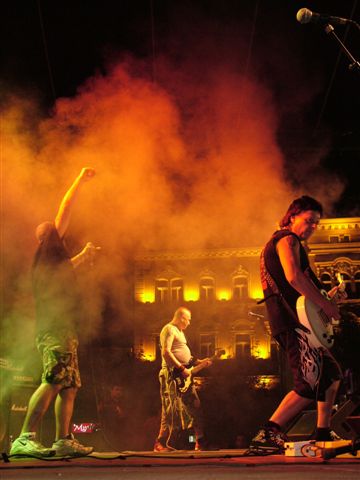 The enormity and importance of the gig could have fazed us but instead it spurred us on. We played well, it sounded great and the audience loved it . What more could you ask? I had the time of my life. At our last gig I had wished a heart attack on myself just to get off stage it had been so awful. At this gig I didn't want it to stop. Even while I was on stage I knew it was one of our best ever and looking out to the sea of people in front of me I felt immensely proud.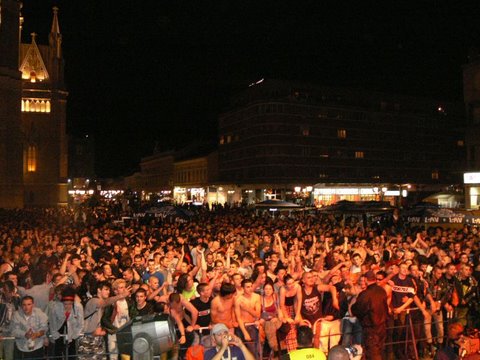 Before long though we had finished the set and had done two encores. We all stood at the side of the stage congratulating each other before being ushered off to the nightclub / backstage. The club quickly filled and I slowly got drunk. The last thing I remember is us lot walking back to the hotel past vast piles of bottles and glasses in the square.
Thursday 10th May 2007
At about 9 I met the others for breakfast and after saying goodbye to Igor we set off in the van to Belgrade airport. I think I slept all the way. At the airport we said goodbye to Djura and then we went to check in. For some reason they had no record of us but the guy behind the desk just checked us in anyway. The flight back was uneventful ( aren't they always ? ) as was the van journey back to Brighton. The gig though had been anything but uneventful. Our first show in Novi Sad and we'd played a blinder. Result.
Thanks to:
Djura, Igor, Sava, The SKCNS, Branko and all at the fortress, The Goose Brewery, The Belgrade crew and very special thanks to the people of Novi Sad for making us feel so welcome.
Photography by : Daniel Tesanovic, Ceda Vasilic and Tracy O'Brien.
Go to our MYSPACE site ( link is on homepage ) for even more pictures.
May 2007
Good morning everyone.

It is 4 o'clock in the morning and I'm just waiting to be picked up to
go to the airport to catch a plane to Serbia.
Yesterday was Bank Holiday Monday and as it was so shit I spent most of
the day indoors filing and deleting the thousands of emails I'd accumulated on my computer
Amongst them I found this little gem.
http://www.youtube.com/profile?user=NowhereRecords
Check it out , I think it's great.
See ya
Pete
March 2007
We haven`t spoken in a while but hello again you lucky people.
Right it's 11.30ish on Tues 13th of March and i've just got back from rehearsal.
A rehearsal that was booked from 9 til 12. Unbelievable. Started at about 9.15,
Dave didn't want any cider, and finished by 10.15. I'm in almost in shock. mind you, i bet he's making up for lost time now. He ain't the only one. The typing might get messy
So what have we been doing since dressing up as Penguins?
Well lets start with the birthdays.
Two days ago i had half of GBH staying here. Which was nice.
It was Dave's birthday and our old friend Steve 's aswell and they'd hired GBH to play.
So every fucker you wanna see, having a good time and GBH are playing for free.
I believe this behaviour should be encouraged.
Get your mates to hire a band for a private party.
Fuck all that hassle of advertising and worrying about breaking even. Get some mates together
and all chip in for a party. We've done it before , they are a fucking laugh.
Last month it was H's birthday so went to The Horse and Groom to celebrate.
Funnily enough there was another fucking good band playing that night for free
- The Vincent Razorbacks. It got a bit messy, ( H had leave early, the poof ) but one worth recounting those who were there but can't remember.
So the gigs.
Well as you probably all know now Del is on tour with Lily - Allen. Therefore We have
only done 1 gig so far this year.
The Punk and Disorderly show was the first we'd done despite being asked a few times before.
I loved it. Good venue, good sound ,we played well and we partied. Perhaps a bit too much.
We got away with it. Nice one M.A.D. Not just from us but loads of other we spoke to then and since.
Next show, which brings me right back to where i started - rehearsal, is this coming Saturday
in Bristol at The Academy with The Damned amongst others. Unfortunately Del ain't gonna be there.
Hence the rehearsal.
Concrete Jungle is ON apparently. It theory it should be good laugh. I have never been to one of
Holiday camp weekend festivals. Yet everyone says they are good. Fler for ttat is here somewhere.
That's Finnish.
Peter
January 2007
Happy New Year to you all!

Sorry for the gap in writing but I have been really busy over the past month or so.

As you will have read on the news page, written by Del, we managed, somehow, to pull off a great gig in Frankfurt just before Christmas. The night before was my work's ' Christmas do ' and as we had to leave so early I just went straight from that without any sleep. To be honest the whole journey from my house to Frankfurt is a bit of a blur. I do remember having curry for breakfast in the basement of some obscure shop in the centre of Frankfurt which only added to he surrealism of the day.

However, after a good kip in the hotel I was fighting fit and once at the venue I thrashed loads of Germans at table football.

Still not sure why we were dressed as penguins but it seemed to work.

The very next day, again without any sleep, we all flew back to Stanstead ( another journey I have no recollection of ) and then I flew off to France to spend Christmas with the missus and her family. It was a very relaxing time consisting mainly of eating and sleeping.

New Year's Eve was a bit of a nightmare.

I worked all day on Brighton seafront in the wet and cold setting up Fat Boy Slim's gig and upon arriving home was met with a very negative attitude about going out for the evening. Eventually we set off to a party at Aggro's house but on the way we realised that the back windscreen of the car had been smashed in. Corinne dropped me off at Ag's and took the car home which in hindsight was not the best thing to do as I'm still getting it in the neck from her now. Rightly so, really.

Got home after the Fat Boy gig last night at about 1AM and watched Match of The Day. Brilliant ! By far the best laugh of the year so far. Reading 6 - Worst Ham 0. Oh how I laughed.

Next gig is in Berlin on the first weekend of March .We are booked to play on the Sunday but due to new developments I may have to change it to the Friday.

Ok gotta go.

Once again Happy New Year to you all

Take care

Peter
November 2006
It's been a bit of a stressful month to be honest.

What with moving house and having shit loads of work plus being offline it's no wonder my mind has been elsewhere. It should have been focused on the bastard speed camera in Croydon. Consequently I've now got a speeding offence hanging over me. As I only passed my test in February this could be a disaster. Can't blame anyone else but myself though! Shouldn't have been fucking speeding.

Worked on quite a few gigs recently, the best of which was Flaming Lips at the Brighton Centre. Wasn't too impressed by Pink last night. Really looking forward to Rancid and The Unseen next Monday at the Dome.

What the fuck was England playing at last month in Croatia? I'd hoped that the negative gutless football displayed under Sven was a thing of the past. Apparently not. However, speaking of football brings me back to
the man/woman and wanker awards for October (above).

More shit soon.

Peter

October 2006
It's now the beginning of October and we've been back from our little jaunt to Australia and New Zealand for just under a month. You can read all about it in the tour diaries which are elsewhere on this site. Needless to say we all had a fucking great time and I can't wait to go again.
As always I owe mountains of thanks to everyone involved with the tour not least of all the band - H, AD, Walnut and Aggro. At the risk of sounding like young Mr Grace - you all did very well.
In Australia I wanna thank - Stu, Paul Ledster, Fiona, Jon from Bastard Squad, Kate, Joel, Danni, Dave the soundman, Beerzone , Gaz and Steve from Head Inc and of course Daz Russell whose idea it all was.
In New Zealand I wanna thank - Kev, Simon, Dom, Sandy, Don, Dave from Team Satan, Je T 'aime, The Thirsy Dog, All the staff at Illicit HQ, Steve from Wellington for my tattoo and The Suicide Dogs.
Most of all I'd like to thank - EVERYONE WHO MADE THE EFFORT TO COME AND SEE US.
As I said before we had a brilliant time and if we get the chance we'd love to return.
OK gotta go and find boxes as I'm moving,
See ya, Peter

September 2006
Today is Tuesday the 5th of September & we've just arrived in Auckland, New Zealand. We played at the WASTED festival in Melbourne last Saturday (2nd) and the gig was superb. We had a brilliant time, made lots of new friends and were made to feel very welcome. 
Despite a lot of difficulties leading up to the festival, the show went off without any problems, which was almost single-handedly down to Stu Straightjacket. You did a fantastic job Stu & we will always be very grateful. Obviously, he didn't work alone, so I would also like to thank; Daz, Beerzone, Kate, Joel, Dave the soundman, Gary & Steve from Head, Rust & John from Bastard Squad. The gig itself was filmed, so it's possible that we may release a DVD of it early next year. 
Next gig is on Thursday, in Wellington, then we fly back here to play in Auckland on Friday. If the hospitality here is anything like it was in Mlbourne, then we're in for a fucking great time. 
Anyway, Tour Diaries will follow later this month, so you'll be able to get a more in depth story then.
Take Care, Peter